Your HVAC Services Website Ranked on Top of Google

That's your business on top of Google.
Imagine that for a second. A healthy supply of leads and phone calls. You can expand your service area, or cut it back and only take the jobs close to home.
You can put on more staff, or run a neat little business where you're the tech that is still highly profitable.
That is what SEO can do for your business.
Hundreds or even thousands of phone calls.
That is the difference between your current situation, and ranking in top 3 for all the related keywords in your service area.
ac repair your city – there you are
ac repair near me – there you are
furnace repair – there you are again!
ac installation – look at that, there you are again!
If you want to focus on a particular neighbourhood. You can do that.
One service more profitable than another? You can focus on that.
Let's talk about how to get more customers from Google, in particular with HVAC SEO.
What exactly is HVAC SEO?
Search engine optimization is a key strategy to generate leads and sales for your hvac services. An ever growing number of people are turning to the internet to find their nearest hvac contractor. Just think of your own behaviour for a second. When was the last time you used the yellow pages, a paper directory, a coupon book, a fridge magnet…you get the picture.
This means that the internet needs to a strategic lead generation pillar for your business. There is no bigger pillar than Google search. Currently Google has over 92% market share over other search engines.
Ranking your website on the top of Google is signficantly harder than years previous. As an experienced business owner who've probably already experienced a Google rankings drop in your lifetime. It's devastating. It's more important than ever to play by the rules. Organic rankings used to be the holy grail of SEO, they are still super important but the results page that Google returns has changed over the years. Typically there are 4 ad positions at the top, perhaps a block of Google guaranteed businesses, then the Google My Business (Google Maps/Google Places) 3 pack. Following this, the once premium organic rankings are displayed.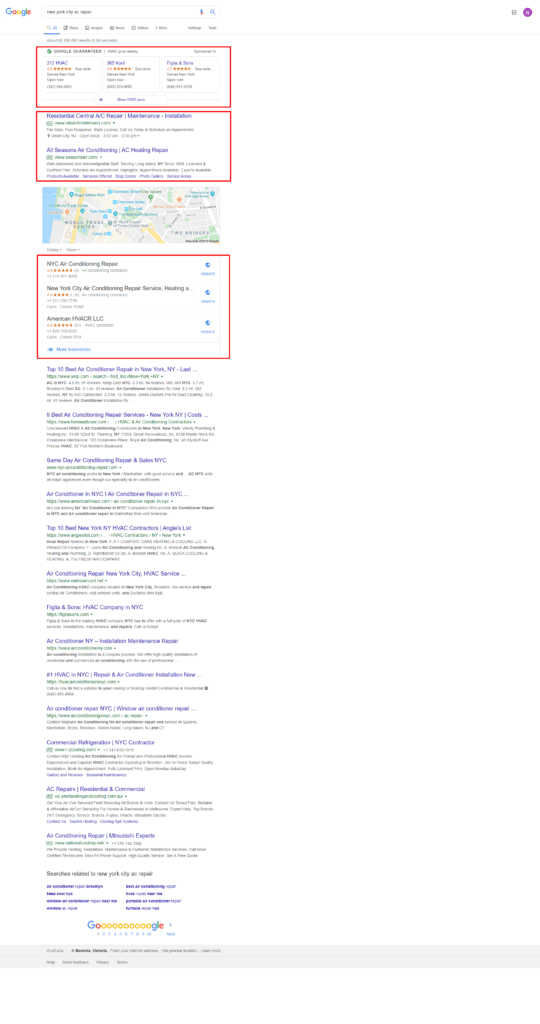 It means that your organically ranked business is really the 7th or 10th listed business on the search results page. But don't fret. More and more people are growing wary of businesses paying for exposure and paying to be guaranteed. The average consumer does not trust these results and gravitates to the Google 3 pack results and organic lists.
With local service ads (Google guaranteed) present in a search result 25% of users click on a paid result, without the number drops to 15%.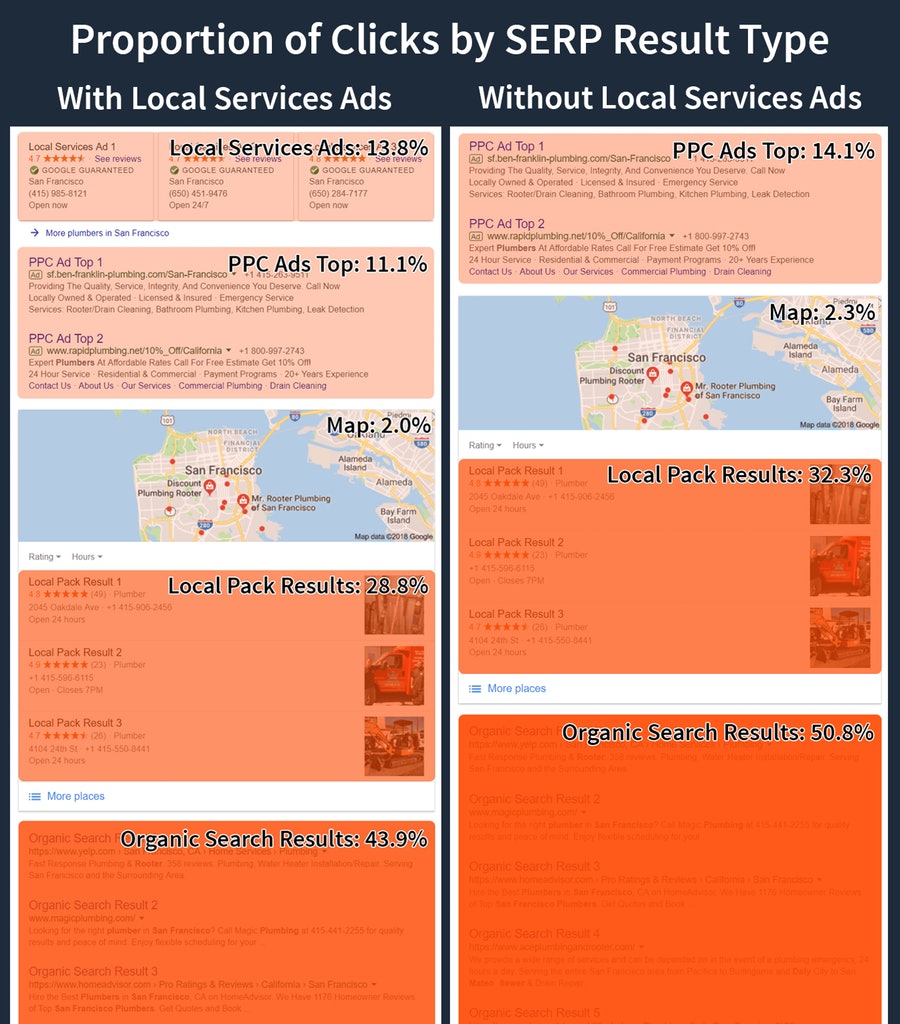 This means that over 75% of users click on either the Google 3 pack or an organic result! Lucky for us (and for you) our entire business is based on the 75%+ majority and not the competitive, over priced, $30+ per click minority.
This means that ranking in the top 10 organically is not what it used to be. If you're on the bottom of page 1 that is a lot of scrolling to get to you. A lot of businesses putting their hand up before you. So your SEO has to be better. You really need to be in the top 3 organically and showing in your service area for the Google 3 pack.
1. Set up Tracking
Most hvac companies have no idea about their important tracking metrics. We make sure all the traffic to the site is measured through a tool like Google Analytics. Then we make sure that phone calls and form fills are tracked. We need to know if you're marketing is working or not. Then we pull all of this information into our custom dashboard that you can log in to at any time to check your traffic levels, replay phone calls and geek out on marketing stats.
2. Make an assessment
Once we have all the applicable tracking set up, we'll then do a deep dive analysis of your website. We'll figure out what has been holding it back from success. We'll identify the assets that are already existing on the site. 
On a local level we'll get really specific and check your visibility in the local areas that are important to you. You want coverage in every neighbourhood of every service area, not just the handful close to your address.
We'll also do a competitor analysis of the sites performing well in your market and service area.
This assessment will form the basis of our strategy going forward.
3. Pick the low hanging fruit
This helps to improve the ROI much quicker in our opinion. Every business has several keyword rankings or locations on the fringe of success. Something that generates only a few phone calls or form fills but could expand quite quickly. You might be ranking from position 6-30 in organic. You might be position 4-6 in the maps but because Google only displays 3 results you have no idea how close you are. We'll get to work as quickly as possible and try and get those quick wins. Google has already demonstrated a level of trust for your site on those keywords and locations. Moving from position 50 or 100 up to page 1 can be a lengthy process that is foolish to rush. Normally what happens is that a flow on effect happens at this step. When you focus on the low hanging fruit the long term keywords you wanted to improve get pulled along anyway.
4. Optimize the website
Generally this step is the bulk of our work in the first month. We run a series of tools over your website and your competitors. We scan for errors in the site architecture and the back end of the website. Then we get to work on fixing those issues that are holding your site back.
New pages may be created

Poor, low quality pages may be deleted

Titles and headings of pages may be modified

Your page loading speed may be improved
This is not a redesign. We're not graphic designers. We try and work with what you've got currently. We've witnessed so many sites drop in rankings from trying to look pretty.
5. Market the website
Now it's time to show off your site to your local market. News, social media, key directories, HVAC directories, mentions on blogs. All of these things help to increase the exposure of your website. Over time, your site rises in rankings for your important keywords.
SEO has the best ROI for HVAC Marketing
Due in part to a fixed monthly price SEO has great ROI when done properly. Your own Google Ads PPC campaign might cost $20-$50 per click generating leads at $100 a pop. Google Local Service Ads might generate leads at $30 each but the lead quality is inconsistent. Regardless of the lead price the unfortunate principle is that you must spend more money to get more leads. In the Google Ads example if you want 50 leads you've got to spend $5,000 approximately. Reductions in cost per click only come to the top advertisers with extremely well optimzed and high performing accounts. Even still, the percentage increases are minimal. We've seen and heard of cost per click doubling in HVAC over the past 5 years. 
With SEO, your cost per lead should decrease over time. Just say you're investing $2,000 per month in SEO. Month 1 brings in 20 leads at a cost per lead of $100. Month 2 brings in 50 leads at $40 per lead. Month 3 brings in 150 leads at a cost of $13.33. See what's happening here? The ROI is getting better over time.

Our consultation process to work with AC Repair Companies
By now you've skim read (caught you didn't I?) over 3000 words on this page. You've probably listened to our podcast, seen us on social media and you're thinking you might want to have a chat. So let's talk.
We'll get to know your business. Where it's been, where it has come from and where'd you like to take it. What goals you have, what do you need help with. Do you have particular services that need more exposure? A service area you're trying to rank and expand to? Then we'll see if there's a fit. SEO is a different game to paid advertising or more direct method. If you need to see a ROI tomorrow and you're down to your last dollar, we're not a good fit and SEO is not your best strategy. If you're well staffed, ready to grow, have existing systems in place like phones, office, technicians, stock etc then we can help.
Let's talk about HVAC SEO for your company. It's time to get the increase in leads and sales that you deserve
You work too hard to see your business floundering on Google. Your business website needs more visitors that can convert into leads and sales.
What would an extra 500 visitors per month do for your business?
At a conversion rate of just 10%, that is another 50 phone calls per month.
That's conservative.
We've seen increases of hundred of phone calls per month, just from ranking in the Google 3 pack.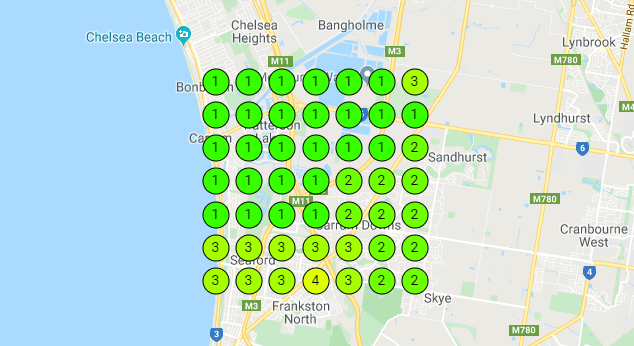 Why should you select HVAC Business Growth before other HVAC SEO agencies
It's simple, we're the best. Sorry…couldn't resist the chance. Selecting a company to handle your SEO is an important decision. The wrong decision could stall your business for months or even years.
Allow me to tell you what is unique about HVAC Business Growth. SEO is the core of our business. We've been doing SEO since 2010 and doing HVAC SEO since 2012. We don't provide services in ppc, web design, facebook, yelp, video, graphic design. We've done this before and spent our own money on our own web properties. We're good at these things, but not great. So we've focused on SEO for hvac contractors. This is our unique strength. We're a specialist. Not a general marketing company working with HVAC contractors. A specialist SEO company working only with HVAC contractors.
We're one of the few companies that have adapted to a maps first approach. For the past couple of years our tracking has shown us that maps is far more lucrative than anything else. Organic rankings are good, map pack rankings are great. You can generate hundreds of phone calls per month depending on the service area. 
You can view our pricing later but we're not a cheap provider. Don't trust your business to a $400 per month provider. They'll either not do much for $400 or cut corners and use cheap and outdated methods to rank your website.